A Mobile Experience
Coming in at 16 inches with a OLED display, the Nomad Ultra 16 is one of the best picks for digital creators who love to create on the go. Unlock vibrant and precise colors to work from anywhere!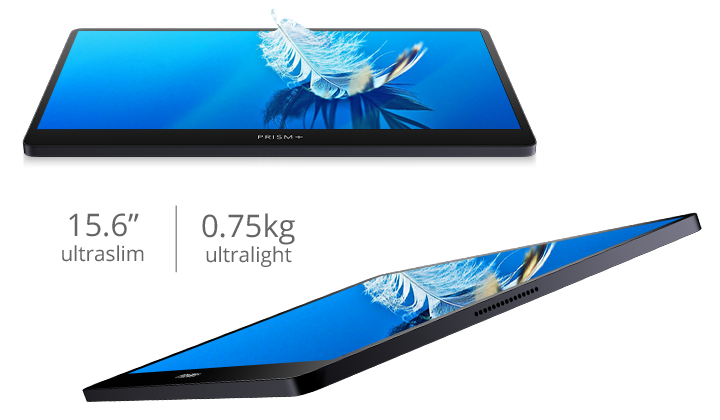 On-the-go Productivity
Carry It Anywhere
Weighing just 0.75kg with a panoramic 15.6 inch screen, the Nomad Ultra 16 gives you the best of both worlds, with a slim and light design without sacrificing screen estate.
Mini HDMI & USB-C Ports
Extend Your Productivity
Compatible with a multitude of devices, the Nomad Ultra 16 includes both Mini HDMI and USB Type-C ports for easier and faster data transfer speeds to your external display.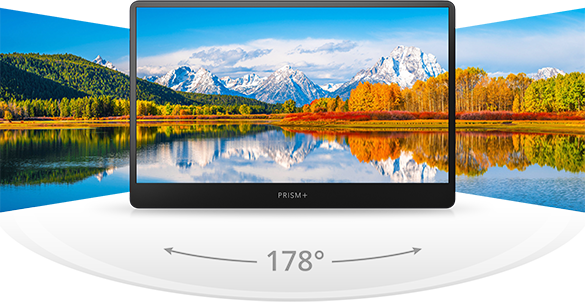 FHD OLED Panel
The Pinnacle of Visual Technology
Experience a visual feast for the eyes like no other with our industry-leading OLED Panels. View vivid, accurate colors with the truest blacks in full HD in the palm of your hand.
Wide Color Gamut
Enhanced Color Reproduction
Unlock a wider spectrum of colors with the 150% sRGB on the Nomad Ultra 16. Coupled with a peak luminance of 400cd/m2, images are brighter and more lifelike than ever.
Anti-glare Surface
Protection for Your Eyes
With built-in blue light filters and an anti-glare screen, this portable monitor not only reduces eye-strain, but minimizes fatigue from long hours of screen time.

Built-in Speakers
Crisp & Clear Audio Quality
Play your music and videos loud and proud with built-in stereo speakers for full audio immersion wherever you are.
Ergonomic Sleeve Kickstand
Built For Your Comfort
Transform the Nomad's built-in sleeve into an ergonomic kickstand for the optimal handsfree viewing experience.
Exactly what you're looking for
My purpose for this monitor was to take it around with me to client sites and have the ability to work as efficiently as I can in the office on my full setup. As graphic design features heavily in my work, performance, clarity and colour reproduction was important. I shopped around for quite some time looking at all the different brands you no doubt have also looked at and settled on the Prism+. I ordered on a Friday afternoon, was shipped on Monday morning and arrived to me on Wednesday just after lunch time. The setup of the monitor was wonderful and simple, the connection between my MacBook Pro (14-inch, 2021) and the Ultra 16 was one USB-C cable (2x provided and 1x HDMI to mini-HDMI provided as well). Within a second or two, the monitor was connected and displaying perfectly. The colour profile automagically loaded and was on point. In the first 24-hours of having it and running it, I could not be happier. Stop second-guessing, make the purchase, you won't regret it!
First PRISM purchase
Great value and quality cutting out the retailers extra margin that is normally added on
4k
The only thing I can say is that it would be great if there is 4k option for the oled version, otherwise awesome service and product
Spin to win